Department of Anatomy
Professor (c.c.)  & Head of Dept.
Dr.Shahana Hossain, MBBS, M. Phil (Anatomy)
Associate Professor Professor
Dr.Farida Yeasmin, MBBS, M. Phil. (Anatomy)
Associate Professor (c.c)
Dr.Razia Sultana, MBBS, M.Phil. (Anatomy)
Lectures
Dr. Md. Abdullah, MBBS,
Lecturers
Dr. Sabnaj Arefin Bithi, MBBS
Lecturers
Dr. Farua Tanni, MBBS
Lecturers
Dr. Md. Ashiqur Rahman
Lecturers
Dr. Kamrul Hasan, MBBS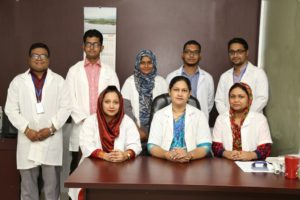 Department of Physiology
Associate Professor
Dr. Magfura Pervin.MBBS, M.Phil.
Associate Professor (c.c)
Dr. Shamima Jahan.MBBS, M.Phil.
Lecturers
 Dr. Anika Farah Sharmin, MBBS
Lecturers
 Dr. Masuda Momtaj Mumu, MBBS
Lecturers
 Dr. Sharmin Jahan, MBBS
Lecturers
 Dr. Prianka Bakshi, MBBS
Lecturers
 Dr. Md. Motaher Hossen Siddiqi, MBBS
Lecturers
 Dr. Mosammat Jannatun Nahar, MBBS
Lecturers
 Dr. Bismi Jatil Alia Juie, MBBS
Department of Biochemistry
Professor (c.c) & Head of Dept.
Dr. Ferdous Ara Begum, MBBS, M.Phil (Biochemistry)
Associate Professor (c.c)
Dr. Nadia Ferdous, MBBS, M.Phil (Biochemistry)
Assistant Professor
Dr. Shabnam Sarwar Sejooti, MBBS, M.D. (Biochemistry)
Lecturers
Dr. Aga Salehin Farhan, MBBS
Lecturers
Dr. Kawser Ahmed Khan, MBBS
Lecturers
Dr. Shohel Islam, MBBS
Lecturers
Dr. Farzana Binta Swroar, MBBS
Lecturers
Dr. Md. Abdul Kader
Lecturers
Dr. Sadiya Akter Poly, MBBS
Department of Community Medicine
Professor & Head of Dept.
Prof. Dr.Asma Kabir, MBBS, M.P.H(C.M) M.Phil(C.M)
 Professor (c.c.)
Dr. Sayeda Riya, MBBS, M.P.H (C.M), M.Phil (C.M)
Associate Professor
Dr. Sarker Shamina Ahmed, MBBS, M.P.H.(C.M)
Senior Lecturers
 Dr. Mohammad Mehedi Hasan, MBBS
Lecturers
 Dr. Md. Sayeduzzaman, MBBS
Lecturers
 Dr. Ahmad Zubair Mahdi, MBBS
Lecturers
 Dr. Shaon Mahalder, MBBS
Lecturers
 Dr. Mihad Hoque Sarker, MBBS
Lecturers
 Dr. Jahir Rayhan, MBBS
Lecturers
 Dr. Imran Khan, MBBS
Lecturers
 Dr. Kazi Sefat Akhter, MBBS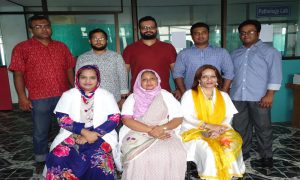 Department of Medicine
 Professor(c.c.) & Head of the Dept.
Dr. Md. Mizanur Rahman , MBBS, MCPS, MD.
Associate Professor
Dr. Mohammad Mobinur Rahman, MBBS, MD
Associate Professor (C.c.)
Dr. Md. Mosharraf Hossain, MBBS, DTM&H, MCPS
Registrar
 Dr. Farhatun Nahar, MBBS
Registrar (In-Charge)
 Dr. Md. Moynul Islam, MBBS
Registrar
 Dr. Enamul Kabir Khan, MBBS
Asstt.Registrar
 Dr. Md. Anwar Hussain, MBBS
Emergency Medical Officer
 Dr. Md. Afjal Hossain, MBBS
Medical Officer
 Dr. Abi Umar – Al – Fattah, MBBS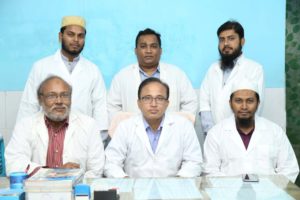 Department of Pathology
Associate  Prof. (c.c) Head of Dept.
Dr.Mehdi Ashik Chowdhury, MBBS, MD
Assistant Prof. (c.c)
Dr. Annesha Agarwala, MBBS, DCP
Lecturer
Dr. Tahmina Akter, MBBS
Lecturer
 Dr. Sabiha Farzana, MBBS
Lecturer
 Dr. Kazi Md. Miraz, MBBS
Lecturer
Dr. Shanto Ronjon Chanda, MBBS
Lecturer
 Dr. Sharmin Mostary, MBBS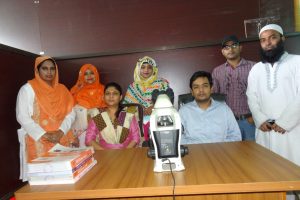 Department of Microbiology
Professor(c.c.) & Head of Dept
Dr. Farjana Majid, MBBS, M.Phil
Associate Professor(c.c.)
Dr. Tashmin Afroz Binte Islam, MBBS, M.Phil
Associate  Professor (c.c)
Dr. Maiz-ul Ahad Suman. MBBS, M.Phil, M.Sc
Lecturers
 Dr. B.M. Makhlukul Mizan, MBBS
Lecturers
 Dr. Nusrat Jahan Lata, MBBS
Lecturers
 Dr. Luthfun Nahar, MBBS
Lecturers
 Dr. Nusrat Jahan Sumona, MBBS
Lecturers
 Dr. Md. Al-Amin, MBBS
Lecturers
Dr. Farhana Anjum, MBBS
Department of Pharmacology
Professor  & Head of Dept.
Dr. Md. Zafor Sadeque, MBBS, M.Phil
Associate Professor (c.c.)
Dr. Samantha Afrin, MBBS, M.Phil
Assistant Professor
Dr. Sarah Binte Noor, MBBS, M.Phil
Lecturers
 Dr. Reduan Masum, MBBS
Lecturers
 Dr. Syed Ehsan Noor, MBBS
Lecturers
 Dr. Arifa Begum, MBBS
Lecturers
 Dr. Umme Hany, MBBS
Lecturers
 Dr. Humaira Binta Nesar, MBBS
Lecturers
Dr. Farhana Shamiha Joarder, MBBS
Lecturers
Dr. Ira Mansoora, MBBS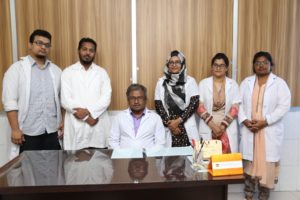 Department of Forensic Medicine
 Professor(c.c.) & Head of Dept.
Dr.Mohammad Jubaidul Kabir, MBBS, D.F.M.
Associate  Professor (c.c)
Dr. Md. Hasib – Ul Haque Sunny,MBBS, D.F.M
Assistant Professor (c.c)
 Dr. Ira Mansoora, MBBS, D.F.M
Lecturers
Dr.Md. Solaiman Kabir, MBBS
Lecturers
Dr. Mirza Fahima Afroz, MBBS
Lecturers
 Dr. Fouzia Ibrahim, MBBS
Lecturers
 Dr. Robaia Ferdosi Shathi, MBBS
Lecturers
 Dr. Urmi Rani Sarkar, MBBS
Lecturers
Dr. Sumaiya Afrin, MBBS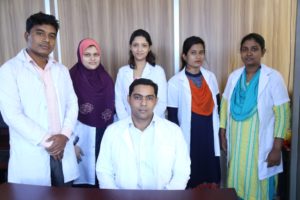 Department of Surgery
Professor & Head of  Dept.
Prof. Dr. Ranajit Kumar Mallick, MBBS, FCPS (Surgery)
Associate Professor (c.c)
Dr. Abu Sayed Mollah , MBBS, FCPS (Surgery)
Associate  Professor (c.c)
Dr. Munny Momotaz, MBBS,Ms, FCPS (Surgery)
Registrar
 Dr. Md. Iqbal Kabir, MBBS
Assistant Registrar
 Dr. Md. Shariar Islam, MBBS
Assistant Registrar
 Dr. Rasheduzzaman, MBBS
Medical Officer
 Dr. Priyotosh Sutradhar, MBBS
Medical Officer
 Dr. Biplab Kundu, MBBS
 Medical Officer
 Dr. Sourav Barman, MBBS
Department of Paediatrics
Prof.  & Head of Dept
Dr.Md. Abbas Uddin Khan, MBBS, MD
Assistant Professor (c.c)
Dr.Hasan Mahmud Rumi
 Registrar
Dr. Sohely Akter, MBBS
Assistant Registrar
 Dr. Naima Sultana, MBBS
Medical Officer
 Dr. Zia Uddin, MBBS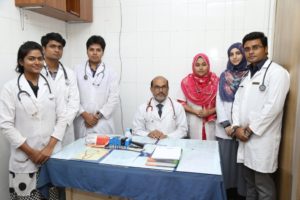 Department of Gyne & Obstetrics
Prof. & Head of Dept.
Dr. Nahid Sultana, MBBS, FCPS
Associate Professor
Dr. Naireen Sultana, MBBS, FCPS
Associate Professor
Dr. Rowshan Ara begum, MBBS,MCPS, FCPS
Assistant Professor
Dr. Dr.Farzana Islam Khan, MBBS, FCPS
Registrar
 Dr. Taslima Khanum, MBBS
Registrar
 Dr. Halima Khatun, MBBS
Registrar(c.c)
 Dr. Rokshana Akther, MBBS
Assistant Registrar
 Dr. Shakura Habiba, MBBS
Assistant Registrar
 Dr. Nazia Islam Disha, MBBS
Assistant Registrar
 Dr. Jasmin Akter, MBBS
Medical Officer
 Dr. Nyema Hossain Munni, MBBS
Department of Ophthalmology
Professor & Head of the Dept.
Prof.Dr. Jahir Uddin Mahmud, MBBS, DO, FCPS
Registrar
Dr. Mohammad Kharuzzaman, MBBS
Registrar (c.c)
 Dr. Md. Feroj Ali, MBBS
Assistant Registrar
 Dr. S.M. Rashidul Hasan, MBBS
Department of Orthopaedics Surgery
Professor & Head of Dept.
Dr.Md. Nurul Alam, MBBS, D.Ortho, M.S.
Assistant Professor (In Charge)
 Dr.Md. Shah Nur Liton, MBBS, D.Ortho
Assistant Registrar
 Dr. Md. Kabir Hossain, MBBS
Assistant Registrar
 Dr. Mohammad Akram Hossain Chowdhury, MBBS
Assistant Registrar
 Dr. Md. Sharif Hossain, MBBS
Assistant Registrar
 Dr. E.M. Iftekhar Rasul, MBBS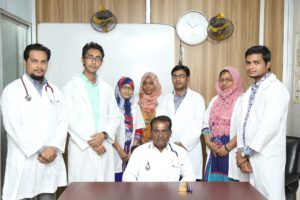 Department of E.N.T
Assistant. Prof.(C.C) & Head
Dr. Md. Sazzadul Haque,  MBBS, FCPS
Assistant Professor(c.c)
Dr.Didar Mohammad Ibrahim Bhuyan, MBBS, DLO
Assistant Registrar
 Dr.Jahirul Islam, MBBS,
Department of Dermatology & Venerology
Assoc. Prof. & Head of the Dept.
Dr. Gazi Asma Sultana, MBBS, DDV
Associate  Professor (c.c)
Dr.Md.Abul Kalam MBBS, FCPS,DDV, MCPS
Assistant Registrar
 Dr. Sujit Chandra Biswas, MBBS
Assistant Registrar
 Dr. Tirtha Khastagir, MBBS
Department of Psychiatry
Assistant Prof. & Head of the Dept.
Dr. Md. Khayrul Islam, MBBS, MCPS, MD
Registrar
Dr. Nargis Sultana, MBBS
Assistant Registrar
Dr. Khondaker Alwan Nahid, MBBS
Department of Radiology & Imaging
Associate  Prof.(c.c) & Head of Dept
Dr. Sahajahan, MBBS, M.Phil
Sonologist
Dr. Mahmuda Nusrat, MBBS, MPH,
Assistant  Registrar
  Dr. Fatema Zohra, MBBS
Department of Anesthesiology
Associate  Prof.(c.c) & Head of the Dept.
Dr.ATM. Rashidun Nabi , MBBS, MCPS (Anaeth.) D.A
Register
 Dr. Firoz Alamgir , MBBS
 Registrar
Dr.Md. Matiar Rahman, MBBS
Department of Cardiology
 Registrar
 Dr.Tapan Roy, MBBS
 Assistant Registrar
 Dr. Md. Salauddin MBBS
Assistant Registrar
 Dr. Apurba Lal Barai, MBBS
Assistant Registrar
 Dr. Sourav Barmon, MBBS
Assistant Registrar
 Dr. Syed Obaydur Rahman, MBBS
Assistant Registrar
 Dr. Sultan Mahmud, MBBS
Department of Emergency
Emergency Medical Officer [5]
Dr. Ashraful Islam,(Incharge), Dr.Priyotosh Sutradhar, Dr.Saurav Barman, Dr.Biplab Kundu, Dr. Afzal Hossain.
Department of Dentistry
Medical Officer
Dr.Md. Forhad Hossen (BDS)
Techincian
Md. Swapan Mia
Department of Physiotherapy

Physiotherapist
Md. Rakibul Islam
Techincian
Anwara Sultana
Department of English
Assistant Professor
Ms. Jackie Kabir, M.A.(English)(D.U), M.Phil
Towards a healthier humanity
Tairunnessa Memorial Medical College is geared towards providing excellent broad-based education with a focus on professional development for the students to equip them with knowledge, skill and attitude necessary not only to address the priority health problems of the community but also to acquire a firm basis for future training and studies. Helping students to Acquire a KNOWLEDGE and UNDERSTANDING of health and its promotion, and of diseases. Their prevention and management, in the context of whole individual and his or her place in the family and the society. ;
CAMPUS
The present campus of the college is located, 9 KM from The Shahjala Internation Airport, at Konia of Gazipur City ( near Boardbazar ), the medical college, including the hospital, stands on the Dhaka-Mymensingh highway-just outside the capital city.
The administrative offices and academic departments are housed in a campus surrounded by a picturesque lush green environment of the area.
The buildings are well furnished and suitably equipped to accommodate classrooms, seminars, dissection hall, laboratories, museum, library, students' common rooms and snack shop.